Firework round boat trip Rhine River Lights™
Rhine romance and a spectacular firework display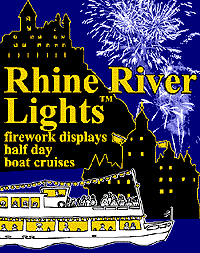 Description of the firework on the Middle Rhine River
The big firework of the event Rhine River Lights™ on the Middle Rhine River takes about 11 minutes. The firework enchants the visitors with its wonderful pictures that are created in the night sky and also with the sound effects, which are reinforced by the echo in the narrow Rhine River valley.
The 2 fireworks Rhine River Lights™ are high fireworks. This doesn't mean that the fireworks are shot off from a hill or a rising, but refers the ascending height of the firecrackers and rockets. The ascending height of a high firework normally has a height of up to about 80 meters. That's how the high firework differs from a baroque firework or a ground firework, where only ground effects are used.
Large firework display Rhine River Lights
™
Opening:
Lightning bolts announce the beginning of the firework. Afterwards, the rapid firing of colorful star bombs, red chrysanthemums with green tail ascendings, red, green and blue bouquets, alternating to blinkers and crackling effects take place.
*
Fan-shaped fired chrysanthemum bomb, golden polyps, accompanied with blue bouquets, golden cracklings, Tremolantgoldeffekte as well as simultaneous shooting of effect bombs, which cast blue-orange blinking stars.
Main part:
Several different colored metamorphosisum bombs in high-contrast colors, palm star crackling bouquets, silver and gold bouquets, red palms, big silver fans as well as silver blinking stars, which slowly sink to the ground are shot off.
*
The firing of blue bouquets, which changes into silver fish, follows. The shooting is followed by red and blue Päonieneffekten, golden crackling stars as well as a big, slowly arranging giant palm in gold.
Finale part:
The finale starts with a shooting of red, blue, green and yellow bouquets, which are covered by white twirls, whistles, palm bouquets and colorful magnesium comets.
*
Firing of lightning bolt salutes, colorful chrysanthemums, color changing bombs and crackling effects.
*
The shooting of a big cloud of golden crackling stars follows, which are outshone by a violet bouquet.
*
A "curtain" of silver weeping willows is shot off into the night sky on a wide front.
*
Numerous small lightning bouquets are followed by loud lightning bolts.
If you want to charter an extra boat for your company outing or if you request group rates for groups from 10 people, please use this group rates online form.
More information for the firework round boat trip
More information boat tickets firework display boat trip Rhine river lights™
Detailled description of the firework display Rhine river lights™ on the Middle Rhine River